'It's not my fault' – what the papers say as May blames MPs over Brexit
Front pages react after the prime minister says it's her and the people against parliament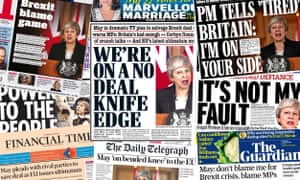 Theresa May's televised appeal to voters is the focus of much of the front page coverage today.
The Guardian's splash is: "May: don't blame me for Brexit crisis, blame MPs". The paper calls the PM "defiant … as she blamed squabbling MPs for delaying Brexit" but says she faces a "furious backlash" from "infuriated backbenchers" who have called for her resignation.

The Sun's front page depicts Theresa May as Wolfie Smith, Robert Lindsay's character from sitcom Citizen Smith, raising her fist in a Marxist salute under the headline "Power to the people".
The i lays things out simply under the headline: "Brexit blame game", saying: "Prime minster accuses parliament of thwarting the people and says applying for Brexit extenson is 'a matter of great personal regret'".
i'm on your side".
The paper says May made "a dramatic television address" in her "quest to end the Brexit crisis" and warned "bickering MPs to get on with it".
The Daily Mail warns the country: "We're on a no deal knife edge". It calls May's TV plea a "dramatic" attempt to salvage Brexit and focuses on what might happen now, saying the country is only eight days from leaving the EU with no deal. The paper characterises the opposition leader walking out of discussions this way: "Corbyn flounces out of crunch talks".