Utrecht tram shooting: armed police hunt suspect
Security increased across Netherlands as police say shooting may have terrorist motive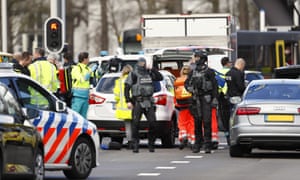 Armed police have surrounded a building in the Dutch city of Utrecht after a possible terrorist shooting on a tram that left at least one person feared dead and up to 20 injured, some seriously.
"A terrorist motive cannot be excluded" in the incident, which happened at about 10.45am at a tram stop on the city's central 24 Oktoberplein junction, a police spokesman, Bernhard Jens, told reporters at the scene.
Jens said he could not confirm any fatalities but local media published footage of a body on the ground and reporters at Utrecht hospital said at least 20 people were being treated.
The national terrorism coordinator told a press conference that a "complex operation" was under way to apprehend what police believed was a single suspect. "Every effort was now being focused" on apprehending the suspect, Pieter-Jaap Aalbersberg said.
Aalbersberg raised the alert level in Utrecht province to its maximum after the incident, which took place at about 10.45am. Local schools were ordered to keep their doors closed until further notice.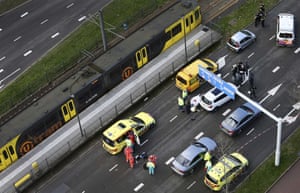 The scene has been cordoned off and a police anti-terrorism unit and emergency services are attending, according to Dutch media. Three police helicopters were also dispatched to the area.
"Several shots were fired in a tram and several people were injured," a Utrecht police spokesman, Joost Lanshage, saud. "Helicopters are at the scene and no arrests have been made."
Dutch military police went on extra alert at airports and at key buildings as the manhunt took place.
A local broadcaster, RTV Utrecht, quoted a witness named as Jimmy de Koster as saying several shots had been fired. De Koster said he was on his way home from work when he saw a woman lying on the ground next to a tram, shouting: "I have done nothing."
He said he then heard three shots and saw four men "running fast towards the woman and trying to drag her away". More gunshots followed and the men ran off, he said, adding: "It was complete and utter chaos."
Police appealed to the public to stay away from the area to allow emergency services to do their work. The Algemeen Dagblad newspaper reported that the wounded had been taken off the tram and taken to Utrecht's main teaching hospital, where a major incident had been declared.
The newspaper said at least three of the victims had received emergency treatment at the scene.
Dutch media quoted unnamed police sources as saying there may have been more than one gunman and that other shootings may have occurred in other areas of the city. Several men reportedly fled the scene on foot after the incident before escaping in a car described as a red Seat.
The Dutch prime minister, Mark Rutte, called off a cabinet meeting when news of the incident was announced. The mayor of Utrecht, Jan van Zanen, described the incident as "awful and dramatic", adding that his thoughts were with the victims' relatives.
source-guardian.com